How to fix smoking pyramid outdoor/patio gas heater?
Many of us in Dubai prefers
pyramid patio heaters
over other outdoor heaters. Don't we all love that amazing flames look inside their clear glass tube. Did you just bought a new heater and noticed some black smoke inside the tube.
While this might be depressing, actually the cause of that ugly smoke could be fixed relatively easily !
The most common cause:
Talking about these patio heaters' gas flame, in principle, not much different from our gas stove in the kitchen. They both use the same gas cylinders as fuel (LPG).
As we all now the gas is mixed with specific ratio of air to give optimum flame, and this flame should be blue as possible (even if ladies prefer the orange flame ;). So wrong gas/air ratio is mostly the cause, assuming the fuel is good quality.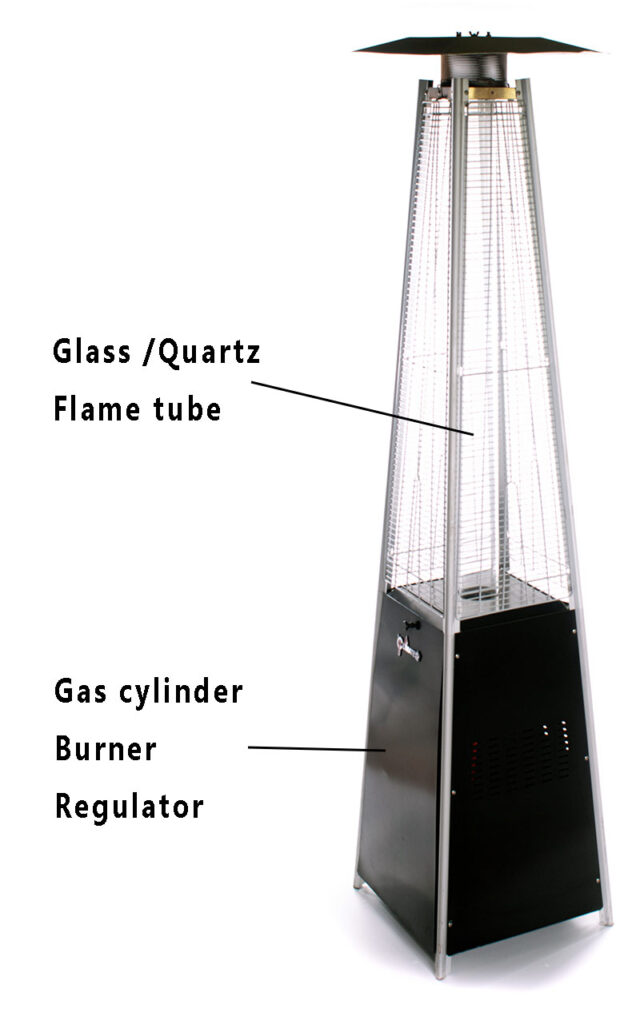 Disclaimer:
Here we only cover general steps to fix the smoke related issue. You must follow the safe setup steps mentioned in your heater manual, including performing a leakage test.
So let us start !
Time needed: 15 minutes.
Steps to fix smoking pyramid outdoor/patio gas heater

Check burner specifications

Check the heater specifications for burner pressure (mostly around 30 to 37mbar).

Check gas regulator pressure

If you got the gas regulator yourself, Check if the output pressure is set to the heater accepted range (ex. 30mbar).

Perform a leakage test

You must have done this before, but still better do it again. Use the famous soapy water solution method, watch out for any tiny bubbles. Remember to open the gas valve first.

Give the new heater some time

If it is brand new heater, run it for an hour or so before trying anything.

Adjust the air intake valve

Try adjusting the air intake valve very slowly, trying to get the blue flame. This valve should be in the burner part, with clear indication. Location differ a little between pyramid/tower heaters' brands. Shown in photo Climate+ pyramid heater burner, for manual (Left) and remote control version (Right).

Other fault

If all the above don't help, call your supplier, as the cause could be blockage in burner or something else that you can't check.